DURAND COMMUNITY UNIT SCHOOL DISTRICT #322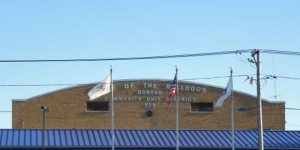 (815) 248-2171  200 South Street, Durand, IL 61024
Durand CUSD #322 is located at 200 W. South Street, Durand, IL 61024. One building houses Pre-K through 12th grade, the Helen C. Johnson Media Center, Learning Center and Village Library. We take great pride in our many academic, athletic, fine arts and extracurricular accomplishments. Students and staff at Durand Schools are proud to be part of our school community. Our district feels strongly that small class sizes offer the best opportunities for growth. We also have an unwavering belief that all students deserve to feel good about who they are and what they do. We work very hard to offer opportunities similar to larger schools, while creating a small community feel for each and every family that we serve. Please do not hesitate to contact us if you have additional questions or would like to tour our facilities.
Mission
In partnership with students, family and community, we will provide the highest quality of education and diverse opportunities to inspire all the reach their full potential.
Vision
Our vision is to provide all students with nothing less than a pathway of education excellence.
We Believe
In providing a safe, positive environment for all people
In providing an education that prepares students to be responsible, productive and cooperative citizens
That learning is a lifelong journey that prepares students for the next levels of life
That the success and pride of our schools depends upon a partnership among parents, the community, the board and staff in striving to be the best well-rounded school in academics and extracurricular activities while maintaining fiscal responsibility
In developing and promoting integrity and character in each individual in a positive way
Goals and Strategies
All students will graduate prepared for college, career, and life in a global economy
Reduce the achievement gap for each student who does not preform at grade level standards
Create digital learners at Durand Schools
Create a career and college readiness program
District Facts
With a total enrollment of 560 students, Durand offers a student to teacher ratio of 14:1
Durand Teachers average 14 years of experience and 65% of our teachers have masters degrees
Durand CUSD 322 has a 97% graduation rate
94% of Freshmen are on track to graduate in 4 years
Durand Schools offer a variety of extracurricular activities in sports, clubs and academics
Durand is located in Northern, Illinois, just 20 miles from Rockford and Freeport, Illinois and Beloit and Monroe, Wisconsin
Some Recent Accomplishments
2017 and 2018 US News and World Report Bronze Medal Winning High School
2018 Lady Bulldogs Volleyball- 1A 3rd Place in IHSA State Tournament
State Qualifying Science Olympiad teams in the both Junior High and High School
2015 State Bass Fishing Team 3rd Place