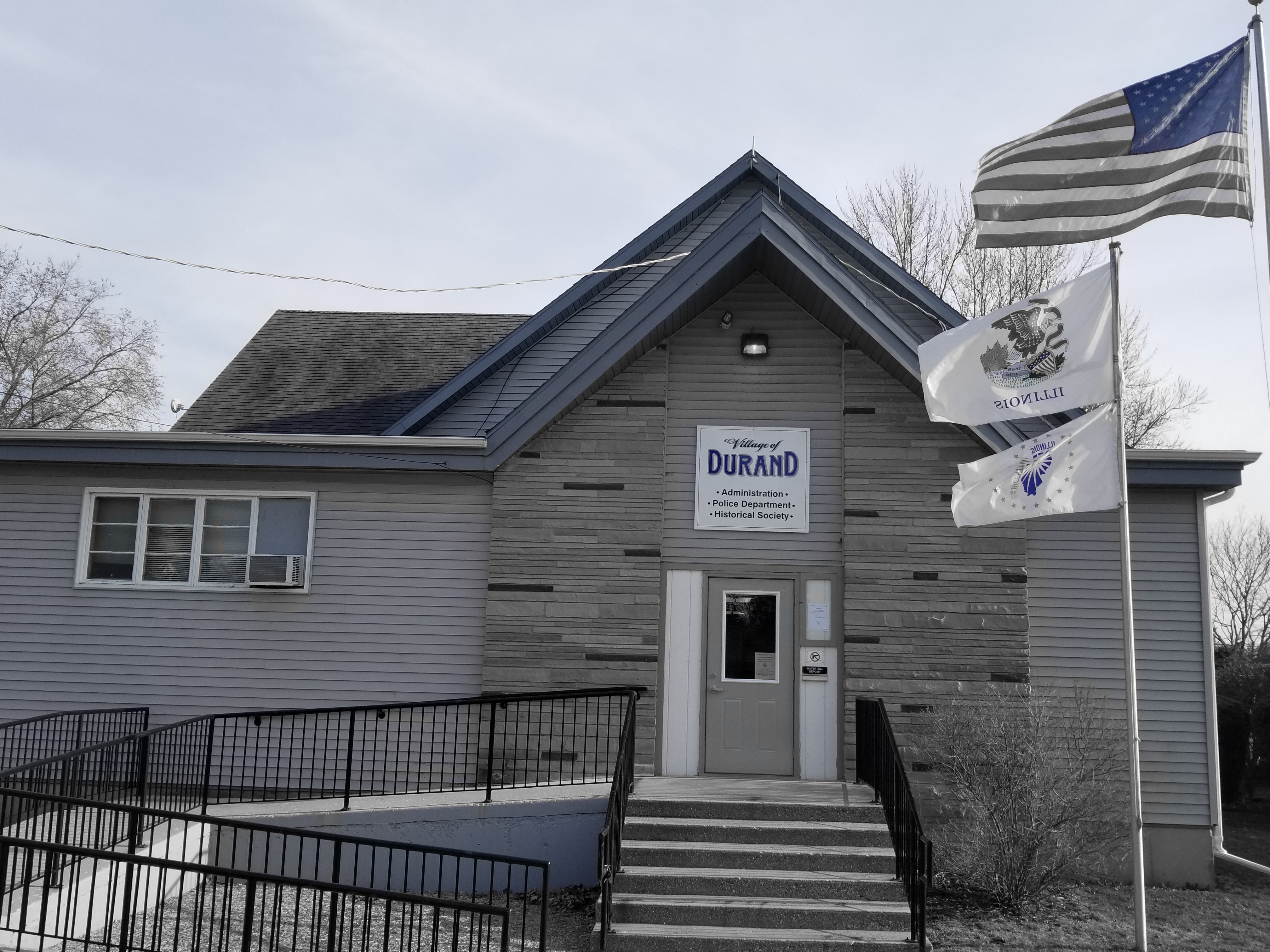 If you're just moving in, please visit us at Durand Village Hall, 308 W. Main St., or call us at 
(815) 248-2606
 between the hours of 9:00 AM to Noon and 1:00pm to 5:00 PM, Monday through Friday.
You may also contact Village Hall at info@villageofdurand.com – feel free to stop by and say hello!
Whether you contact us in person, by phone, or via e-mail, we are eager to assist you with any questions or concerns you may have regarding the Village of Durand and our many services, events and attractions.
Village Hall
Phone: 815-248-2606  Fax: 815-248-2032
Emergency 
Police, Fire or Ambulance Service call 911
Durand Police Department -Non Emergency
For questions or concerns requiring law enforcement assistance
Phone: 815-248-4194
Public Works
Road & Sidewalk Maintenance or Water and Sewer Concerns
Phone: 815-248-2201   Fax: 815-248-2032
Durand Fire Department
 115 W Howard St, Durand, IL 61024
Phone: 815-248-2696
Winnebago County Sheriff's Department
650 W. State St, Rockford, IL 61108
Phone: 815-282-2600  To visit the website click here
Secretary of State-Driver Services Department
Information on locations and services available click here
J.U.L.I.E.
No-charge line detection service…always call before you dig!
Phone: 800-892-0123
Nicor Gas
The professionals at Nicor Gas are ready to help you begin enjoying the comfort and reliability of natural gas. Nicor website click here
Phone: 888.642.6748
ComEd
The electric utility company in Durand is ComEd.
Activate/Switch Service:  1-800-334-7661 (24/7)
Power Outage: 1-877-426-6331
Advanced Disposal
Advanced Disposal offers a variety of waste and recycling services for residential and commercial customers in the Village of Durand. Click here to see the WASTE COLLECTION & RECYCLING GUIDELINES FOR DURAND, IL. The Village of Durand contracts services with Advanced Disposal and bills for waste pick up, water and sewer monthly on a post card to your residence directly from the Village, questions may be directed to Village Hall 815-248-2606. Special pick ups may be arranged with Advanced Disposal.
Phone:  815-874-8431
Winnebago County Government Center
 Marriage Licenses, Birth Certificates, Passports, Animal Control, County Sheriff, Jail
Phone: 815-319-4225
Mediacom 
Cable, Phone, Internet
 Phone:  855-242-7037
Frontier
Landline phone service, internet
Phone: 877-703-2801
Sonic Spectrum Inc
Internet
 Phone:  815-904-8700
Durand Village Library
Inside Durand School
The village library is open:
Monday: 3:30-6:30 p.m.
Wednesday: 3:30-6:30 p.m.
Saturday: 9:00 a.m.-noon
Please come and browse our collection!
The library is also open on school day during school hours.
Phone: 877-703-2801