Mosquito Spray Notification
The Village of Durand budgets for 3 mosquito sprays per year. Depending on weather and mosquito population, this may not be necessary. We do our best to post when those sprays will take place, however, you can register to receive personal notification by text or email by registering with Clarke, the mosquito control service provider for the Village.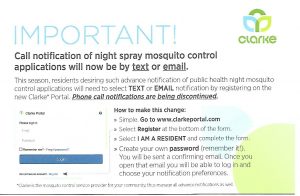 Click to enlarge and/or print Clarke information
A few things to know about registering on the portal.
–          Residents will receive an email to confirm their email.  They MUST COMPLETE that step or they are not registered.  This is a common step today to prevent the bots from running the world.
–          If the resident's address is not within 600 feet of a spray route, they will receive an email that states there are NOT within our service area. The notifications are intended for those within the effective application drift zone.
–          If they are on a spray route, they will receive an email confirming such.