Water, Sewer, Refuse bills may be paid in person during office hours, placed in the convenient mail slot to the right of the Village Hall front door anytime, by phone at 888-604-7888 or online.
The Village of Durand uses
to accept major brands of credit, debit and prepaid debit cards for Water, Sewer, Refuse payments 24 hours a day, 7 days a week.
is a third party processor. The Village of Durand does not pay for this service or collect any of the processing fees.
is solely offered as a convenient alternative payment option.
Bills are due on the last day of the month. Please allow 2-3 business days for payment to post. Payments made on or after the due date after business hours or on weekends or holidays may not be posted until the next business day and may result in late payment penalty of $5.00.
BILL PAY INSTRUCTIONS
To pay your Water, Sewer, Refuse Bill, click the 
button found on our home page or at the bottom of this page. Once you click the button, you will be taken to the Village of Durand page of the
website- pictured here to the left.
Confirm that you are on the right page by verifying the Village of Durand name, address and phone number are at the top of the screen.
Next, enter First Name and Last Name.
Now, enter either your account number or the service address and payment amount, found on your billing postcard. Most everyone will be paying only one bill and will only fill out the first billing information section. There are four sections for bill payment information. The other three sections are for multi-unit properties (such as apartment buildings).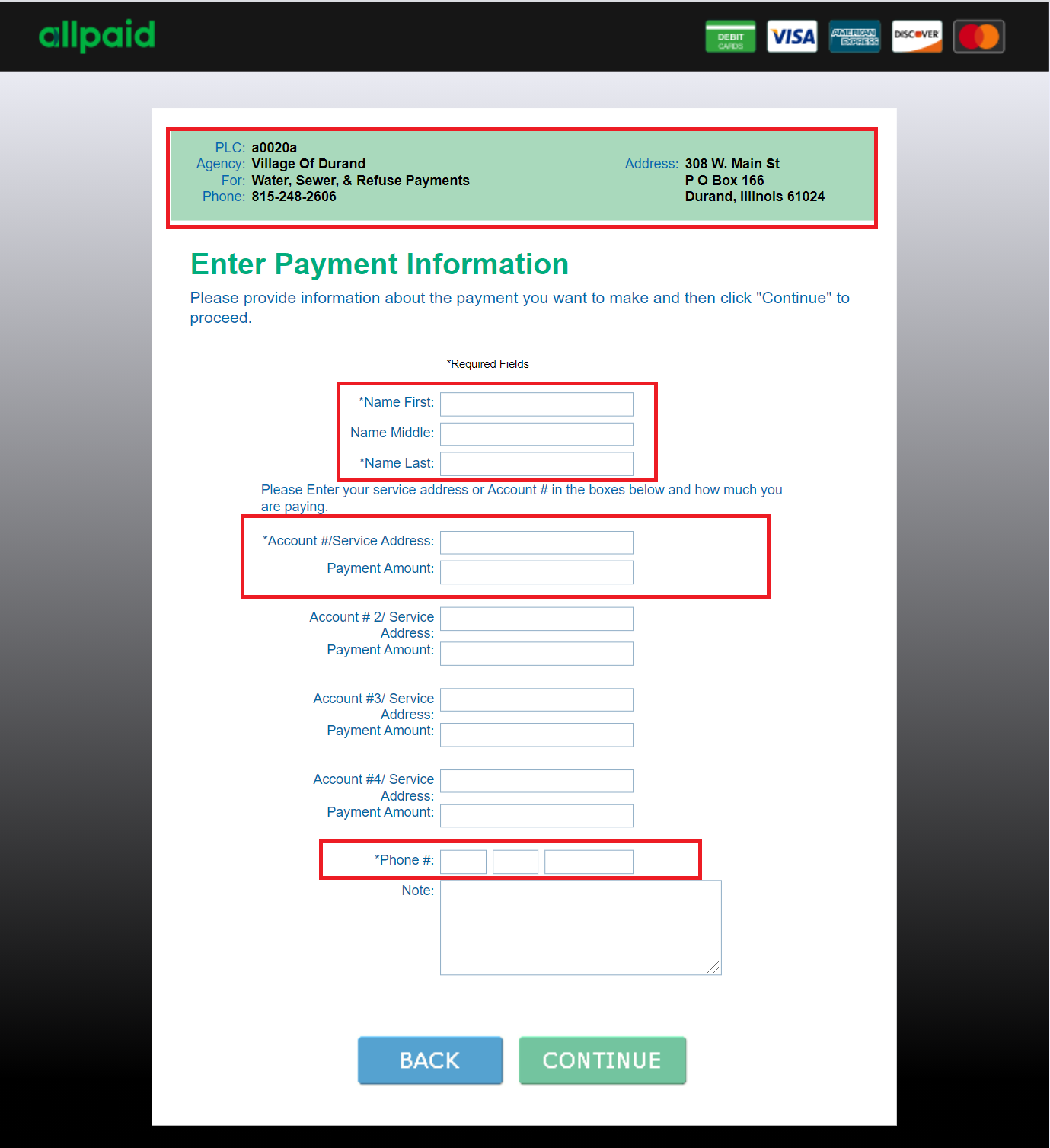 Move down the form to enter phone number.
A short note may be added if necessary
Continue
Verify- Is this information correct? All of the information just entered into the form should be visible here.  If correct, Continue
A second verification of payment amount will appear. If correct, Continue
Choose the icon that corresponds with the card type being used
Choose Payment Method: How will this card be processed? As a credit or debit card?
Continue
Enter Card information into the form: Name on card, credit card billing address, phone number, card number (no dashes), expiration date xx/xx format, three digit security code on the back the card.
Agree to Terms and Conditions
Choose whether to receive an email confirmation
PROCESS PAYMENT
A confirmation will be immediately available for printing. If an email receipt was chosen, that will sent immediately as well.

TELEPHONE PAYMENT
Payment may also be made by phone by calling 888-604-7888 to use the automated system or a customer service operator. Service fees apply.
ALL telephone payments must be made using the phone number listed above. Durand Village employees can not process your phone payment.