Village Board Meeting Schedule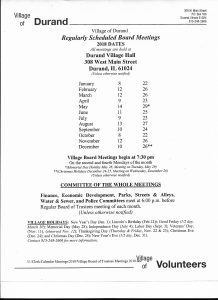 All meetings are held at the Durand Village Hall at 7:30pm on the 2nd and 4th Monday of the month unless otherwise noted. Memorial Day Holiday May 28-meeting Tuesday, May 29. Christmas Holidays Dec 24 & 25-meeting Wednesday, Dec 26.
COMMITTEE OF THE WHOLE MEETINGS
Finance, Economic Development, Buildings & Parks, Streets & Alleys, Water & Sewer and Police Committees meet at 6pm before Regular Board of Trustees meeting 2nd and 4th Monday of the month at Village Hall unless otherwise notified.
VILLAGE HOLIDAYS-Office Closed
New Year's Day (Jan 1), Lincoln's Birthday (Feb 12), Good Friday (1/2 Day, March 30), Memorial Day (May 28), Independence Day (July 4), Labor Day (Sept 3), Veteran's Day (Nov 11-observed Nov 12), Thanksgiving (Thursday & Friday, Nov 22 & 23), Christmas Eve (Dec 24) and Christmas Day (Dec 25), New Years Eve (1/2 Day, Dec 31)
Contact Village at (815) 248-2606 for more information.