Our apologies for a late post. Things continue to be busy for the Village.
It has always been against Village ordinance to ride bicycles, skateboards, scooters and the like on the upper deck of the Square sidewalks. There have been some near misses recently of residents exiting businesses, either potentially causing a crash of someone on wheels or pedestrian being hit. Please, be considerate and at least "walk your wheels" on the upper deck. If stopping to go inside, please use the bike rack next to Anytime Fitness or place bicycle, scooter etc near the wall of the business on the orange concrete, out of walkway.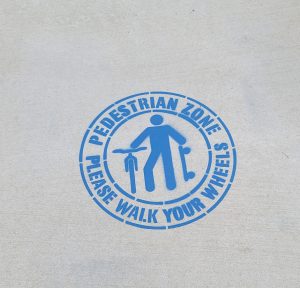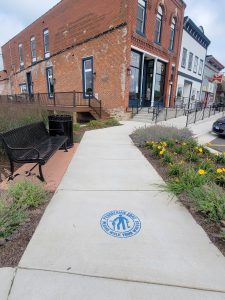 The new equipment continues to allow Public Works to perform tasks and complete projects in-house, instead of contract out. Currently, they are working to prep for restoration of the gazebo by Arthur Jones. You can find the skeleton of the gazebo on the Spelman/Hopper Lot, for now, as the team preps the electric and the space underneath. The gazebo will then be centered in the space, wrapped in white, more maintenance-free material and feature a blue metal roof. The electric will be properly run, with electrical outlets. There will be stairs on both sides so that the gazebo may be accessed from both sides of Center Park.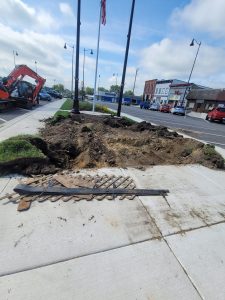 The benches at the North end of the Square were confirmed to be a design oversight and not an IDOT requirement. They will be switched to the opposite side of the sidewalk, looking in.
Fritzel's Landscaping has placed 3 Autumn Blaze Pear Trees (they DO NOT drop fruit). They will be slower growing, with reasonable root systems. You will see beautiful white blooms in spring, green foliage in summer and a gorgeous burgundy in Fall. The tree at the North end replaces a tree that was dedicated to PFC George R. Butler. His plaque is now encased in the North Monument base.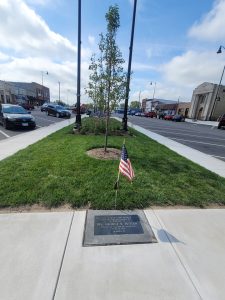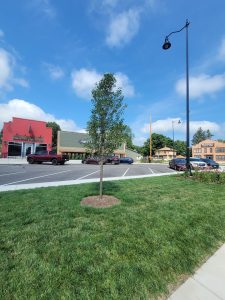 Both Monument bases has been reconstructed for stability, maintenance and accessibility.
Last, but certainly not least, at least one Purple Martin Birdhouse will again be placed in Center Park. The Purple Martin Birdhouses in Center Park, on the Square, date back to March 1966. An idea that was born from within the Durand Barbershop and became a community project. Purple Martins were believed, at the time, to eat as many mosquitos as bats.
Thank you for your continued patience and support.